Pre Purchase and Termite Inspection
Are you buying a house? You will need a comprehensive structural pest report prior to making such a large financial commitment. You will also need to know you are choosing the best available company when it comes to expertise, service, integrity and cost. Novopest have been performing professional pest inspections in the Newcastle, Lake Macquarie, Port Stephens, Central Coast and Hunter areas for over 17 years and have carried out thousands of reports for Solicitors, Conveyancers and Purchasers during this time.
Although we have all the latest tools at hand, such as thermal cameras, there is no substitute for an experienced eye, powerful torch and a careful attention to detail. Our written reports are both comprehensive and easy to read, including information on Termites, Borers, Wood Decay, Chemical Defibration, Water Leaks, Drainage, Ventilation and also the presence of non structural pest such as Cockroaches, Ants, Rats and Mice. All of this combined with our very competitive rates will provide you with the peace of mind you need during this sometimes daunting but exciting time.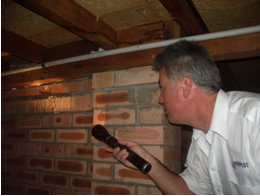 Contact us today to arrange your pre purchase or termite inspection report